Welcome
Dear Parents/Carers and friends of Seaview PS,
Welcome to our website.
Join us on our journey to become an Integrated Primary School...
We are overwhelmed by the 95% of parents who voted for transforming to become a Controlled Integrated Primary School.
Join us as we transform education in Northern Ireland.
In the mean time...
You will find lots of information regarding the fun learning and teaching that takes place here; where pupils from differing backgrounds learn and excel together.
I am honoured to be the Principal of Seaview Primary School.
As Principal I aim to inspire staff and pupils to be the best that they can be, working in association with parents, the wider community and everyone connected with our school.
Support our transition to integrated status.
#togetherachievenow
Mr Barry Corr
Principal
FOLLOW US ON FACEBOOK
What the Inspectors said...
"The school's action plans are of a very good quality."
"There is a collegiate, whole school approach to school improvement."
"There is a very good quality of learning and teaching."
"The school is meeting very effectively the educational and pastoral needs of the children."
"The quality of education in this school is very good."
Latest Gallery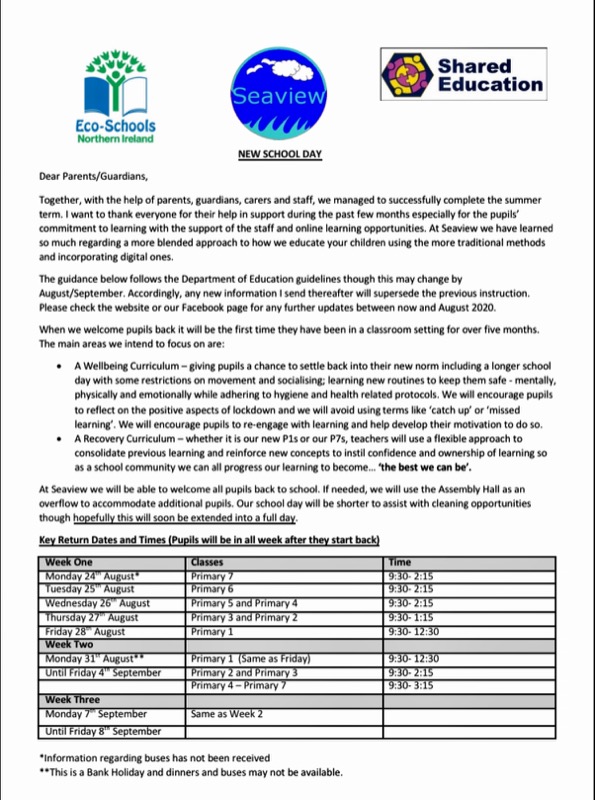 Upcoming Events...
Monday, 14th June 2021
Sports Coach Robert Currie (P1,2 & 3 1.05pm - 2.05PM)
Tuesday, 15th June 2021
GAA Coach Dominic McKinley (1PM P4,5,6,7)
P1/2/3 (Fun Day @ Carnfunnock Park)
Thursday, 17th June 2021
P4&5 (Day trip to The Zoo)
Friday, 18th June 2021
P7 Last Day. Celebration Day. (Assembly @ 9.50AM)
Monday, 21st June 2021
Sports Coach Robert Currie (P1,2 & 3 1.05pm - 2.05PM)
Tuesday, 22nd June 2021
GAA Coach Dominic McKinley (1PM P4,5,6,7)
Friday, 25th June 2021
Last Day of Term 3 - Summer Holidays (School closes @ 1PM)
Seaview Primary School, Glenarm,
11 New Rd, Glenarm, Ballymena BT44 0AA
Phone: 028 2884 1372

WEBSITE BY: SCHOOLWEBDESIGN.NET | Login